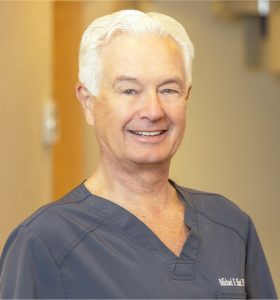 Dr. Skerl grew up in University Heights attending Gesu school and St. Ignatius High School, completing the full Jesuit education at John Carroll University.
Why Dentistry?
While observing those in the healing arts, Dr. Skerl was most influenced by his godfather, Rudy Skerl, DDS. Rudy was able to balance the demands of his work as a dentist while being present for his family and children.
Where Did You Study Dentistry?
Dr. Skerl attended John Carroll University before going on to obtain his Doctor of Dental Surgery degree from Case Western Reserve University. Since then, he has served on the alumni board for Case Western and is also a clinical instructor for their Department of Oral Medicine.
Always trying to learn and improve, he is currently a member of the following organizations:
Dr. Skerl is also a member of the Hillcrest Dental Study Club.
As part of his commitment to helping others, Dr. Skerl has gone on over 15 mission trips to Honduras to provide free dental care to the underserved populations there.
Outside of the Dental Office, What Do You Like to Do?
Dr. Skerl and his wife, Kathleen, have a daughter and son as well as four beloved grandchildren. He has been a part of the same church for over 60 years, and likes to spend his time away from the office playing tennis, skiing, golfing and coaching youth basketball (which he has done for over 25 years).  Dr. Skerl is an avid Cleveland sports fan with a special allegiance to The Guardians. He and the family often spend the summers at their condo at Chautauqua Lake, relaxing among the beautiful scenery.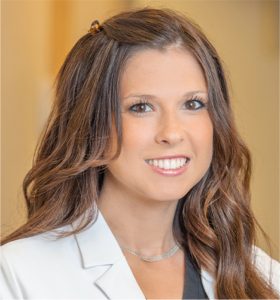 Alexis "Lexi" Plucinsky, DMD
Dr. Plucinsky says that one thing she loves about working in dentistry is that she gets to change the negative association most people have with it. With her, dental visits turn into an exciting, inviting and confidence-boosting experience. The field combines healthcare with science, art and engineering, and Dr. Plucinsky likes being able to use each of these skills to help her patients get out of pain and finally achieve the smiles they have always wanted. Before you have a chance to meet Dr. Plucinsky in person, you can start getting to know her below.
Why Did You Decide to Become a Dentist?
As a child, Dr. Plucinsky always looked up to both of her grandfathers — her maternal grandfather was an optometrist, and her paternal grandfather was an internal medicine physician. Her goal was always to make them proud of her achievements. From a young age, she decided to follow in their footsteps and dedicate her life to helping and caring for others.
Because of this, Dr. Lexi admits she was highly motivated at a young age – she would run around the house with a toothbrush trying to convince her brothers and sister to let her brush and floss their teeth for fun! When she was in the eighth grade, her youngest brother had some extensive dental work done. She became so fascinated by how his confidence and personality changed as his perfect smile came to life. From this experience, she knew that she wanted to be the person who could make these dreams come true for as many people as she could.
Where Did You Study Dentistry?
Since she knew that she wanted to be a dentist from such a young age, Dr. Plucinsky decided to shadow as many dentists as possible while in high school. She was fortunate to get a job during her sophomore year at a local orthodontics office as an assistant. She worked there throughout high school and during her time at John Carroll University.
Once she made it to dental school at the University of Kentucky College of Dentistry, she spent her summers working at different dental offices as an assistant. The knowledge that she was learning in school was constantly being solidified, and she knew that she had chosen the perfect profession.
In dental school, Dr. Plucinsky attended many district, state and national dental conferences. As the Secretary for not only her dental school class but also for the American Student Dental Association, she has been fortunate to expand her horizons in the dental field by making connections, learning leadership roles, public speaking and being asked to attend many private lectures and conferences. At the University of Kentucky, she also performed orthodontic research with Dr. Christopher Fanelli and Dr. Lina Sharab.
Today, she keeps her skills up to date by attending courses through Spear Education, the Kois Center and the Pankey Institute, and she is also an active member of the American Dental Association®, Ohio Dental Association, Greater Cleveland Dental Society, and the Academy of General Dentistry.
Outside of the Dental Office, What Do You Like to Do?
A Cleveland native, Dr. Plucinsky says she and her siblings were very fortunate to grow up with an exceptional support system thanks to their parents, Vanessa and Tom. In her free time, she likes to relax by reading and staying active through running, hiking and practicing yoga.